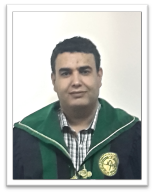 Dr. Nawaf Ahmad ALguusin
Associate Professor and Head of the Department of Economic Sciences
Vision Statement:
To be a high quality model teaching and research program in the area of economics
Mission Statement:
Commitments to high quality teaching program that satisfy local and regional job markets.
Strategic Goals

:
Commitments to offer high quality teaching and learning commensurate with international of program standards.
Participate in preparing specialized scientific graduate in the area of economics.
Provide students sound economics reasoning.
Overview  of  Department:
The department of Economic Sciences was established in the academic year 1993 / 1994. The department has 8 faculty members and teaches 248 students. The department has graduated 18 groups of alumni, with 248 of these being bachelor degree holders . The department faculty have produced 9 texts of scientific research published in internationally renowned journals. The faculty have also participated in 3 international scientific conferences both locally and internationally.
The most important accomplishments of the department of Economic Sciences are:
Reload study plan and educational resources in line and see the section of the educational process.
-Encourage faculty on scientific research and publishing scientific journals and international conferences Court
. Organizing a range of methodological and extracurricular activities, in order to communicate and interact with the community, government and private institutions.
Programs Offered By The Department: Program Name
:

Bachelor
Program Outputs

:

Bachelor
Department Council:
| | | |
| --- | --- | --- |
| Name | Rank | Position |
| Dr. Nawaf Ahmad ALguusin | Assoc | Head of Department |
| Dr. Mohmmad Badawi AL-Qadi | Assoc | Member |
| Dr. Abdullah Shawawreh | Assist | Dept. Represntative |
| Dr. Hamd Afnan Kasasbeh | Assist | Member |
| Dr. Ibrahim Naji Alloush | Assist | Member |
| Dr. Wajih Ahmad Nadde | Assist | Member |
| Taher Mansi | Master | Member |
| Islam Mohamed AL-Majali | Master | Member |
| Abdullah Yosef Saadeh | Master | Member |