---
AET Activities
Third Steering Committee Meeting for EGREEN Project (January 18-20, 2018)
Eng. Eman Abdelhafez participated in the third steering committee meeting for EGREEN project, which was held on January 18-20, 2018 in Porto- Portugal. It was hosted by Catholic University of Portugal and attended by 27 representatives from different project partners including Jordan, Syria, Portugal, Austria, and Germany.
---
Training Workshop in Germany (September 11-15, 2018)
Dr. Malik Al-Amayreh attended workshop within EGREEN project which was conducted in Ostwestfalen-Lippe University of Applied Sciences, Germany during September 11-15, 2018. The training is focusing on modelling and simulation of power plant cycles, Water Resources Engineering including non-conventional water resources, Water and Wastewater Treatment, Air Pollution, and Air Quality Management.
---
PV System Design and Energy Storage Solution(25/11/2017-16/12/2017)
This workshop includes the following topics: PV technology, solar recourse and solar angle, electrical load analysis, on grid and off grid design, Battery Reuse technology and future plan of energy project in Jordan and gulf region.
---
Participation in the GCREEDER Confenerence(31-3-2018)
Dr. Malek AL-Amayra participated in the GCREEDER conference on the 31th of March 2018 held at the University of Jordan and presented a paper titled "Oil Shale Pyrolysis Utilizing Solar Thermal Energy".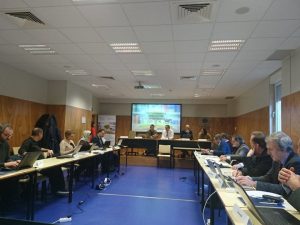 ---
---