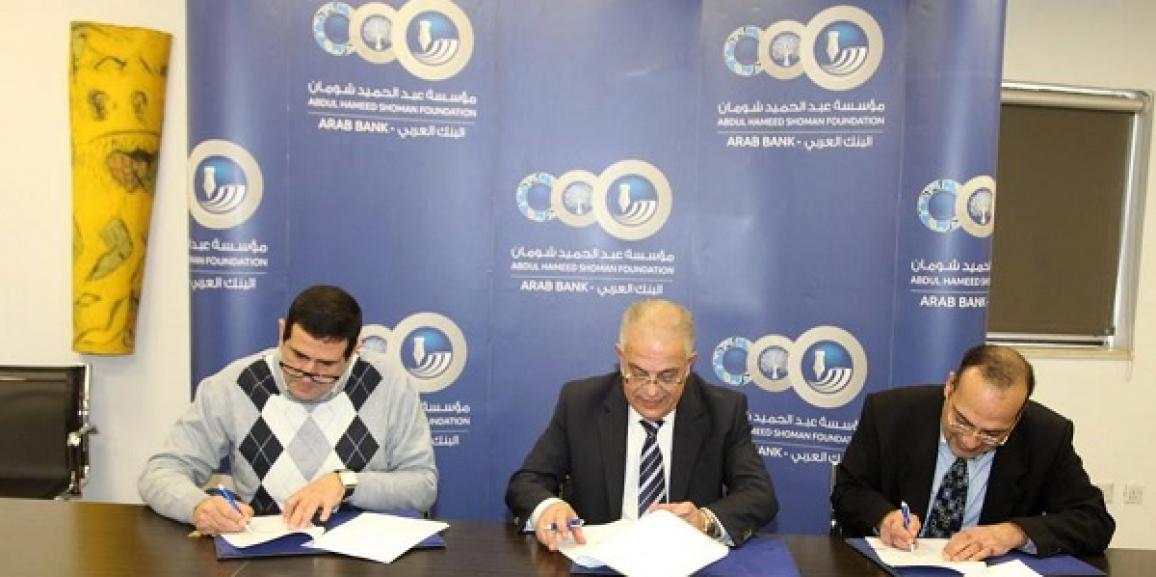 The executive vice-president of Abdul Hameed Shoman Foundation (AHSF), Mr. Saleh Al-Kilani, the president of Al-Zayoonah University of Jordan (ZUJ), Professor Turki Obaidat and the principal investigator, and the head of the Accounting department Dr. Abdallah Attieh signed an agreement to support the implementation of a scientific research.
The research entitled"The Relationship between Accounting Earnings and Cash flows, and Cash Dividends for Commercial Banks Operating in Jordan" aims to test the relationship between the level of change in cash flows from financing, investing and operating activities, and cash dividends of equities at operating banks in Jordan.
Al-Kilani pointed out that by supporting Dr. Attieh's research, the principal investigator, this will be the third research that the foundation supports within a year at (ZUJ). This support stems from the vision and the orientation of the foundation through its scientific research fund, as well as, supporting researchers and dissemination of scientific knowledge. He noted that applying such scientific researches on the ground is the foundation of renaissance and community development.
Obaidat, on his side, thanked the foundation for its continuous support for Jordanian and Arab researchers at different levels and fields, in addition to emphasizing sustainable scientific research and keeping up with research and scientific development in the world.
He elaborated that the foundation allows researchers in universities and other sectors to implement their ideas and projects through its support, which leads to a widespread culture of scientific research in the community, therefore community development in all economic and social trends.
Attieh clarified that analytical methodology has been adopted in this research, in order to achieve reasonable results to test assumptions included in the study, and analyze the monetary distribution of equities and profits on the study members, since he depended on distributed financial statements between the years 2007-2017.
He noted that the outcomes of the distributed research will serve all parties that have direct and indirect interest in bank economics of shareholders, financial analysts, and market-based capitals in addition to the management of financial institutions. He stressed that this study depends on a series of banks' historical statements.
The agreement was signed in the presence of deputy dean of Business Faculty Dr. Raed Al Qirim and associated researchers Professor Abedalrazzak Alshehade and Dr. Mohammed Ashour.