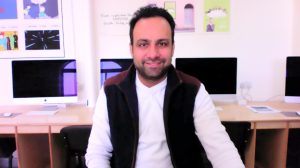 Head of Graphic Design
Dr. Alaa Al-Sharaa
Graphic Design Department
About the Department :
Graphic Design Department was established in 2001-2002. He began teaching graphic design specialization to students from all over the Kingdom as well as students from Arab countries at the hands of a group of professors from Jordan and Arab countries. The department awards a bachelor's degree in graphic design.
The Graphic Design Department includes 4 faculty members from different academic and specializations. And is joined by more than (150) students. Graduated from Section 16 regiment that (799) students holders of a bachelor's degree in graphic design.
The number of researches for faculty members has reached 22 publications published in refereed scientific journals and a number of researches in Arab and local conferences. The department aims to prepare a distinguished academic student capable of keeping pace with the labor market.
Department vision : 
Providing a balanced academic program that prepares graduates for work, creativity and excellence locally and internationally. Encourages scientific and technical research in line with the needs of the local community.
Message Department :
The Graphic Design Department seeks to provide a unique learning environment in accordance with international standards and to promote scientific and technical research.
College Objectives :
Completion of the annual plans of academic programs with emphasis on the quality of educational programs and curricula provided to meet the needs of the labor market .
Upgrading the academic body and the departmental councils to achieve excellence in the fields of applied scientific research and academic education.
Provide the necessary knowledge by adopting modern learning methods and e-learning, providing the knowledge environment supporting the academic programs and continuous improvement of the study plans.
Supporting applied scientific research and serving the local community, national and university priorities and active participation in regional and international competitions.
To invest the financial allocations of the college in the qualification of human and academic cadres to serve the educational process.
Preparing a graduate with growing abilities, distinguished scientifically and professionally, in line with the requirements of the labor market, in line with the regional and global environment, and activate the mechanism of communication with graduate students and upgrading the level of services  .
Enhancing community service and creating internal and external cooperation and partnerships in line with the scientific disciplines of the college.
Department Objectives  : 
 Provide an educational and learning environment for students to provide them with the knowledge and skills necessary to enhance their intellectual and creative abilities.
Developing academic exchange relations and students from regional and international institutions.
Organizing exhibitions and workshops, conferences and seminars specialized in the field of design and contribution.
Maintaining and developing scientific and technical research.
Linking the specialization to scientific and technical developments and establishing partnerships with the distinguished scientific and technical centers locally and internationally  .
Members of the Department Council (2020-2021) :
| | | |
| --- | --- | --- |
| Name of faculty member | Specialization | Academic Rank |
|  Dr. Alaa Jamil Al Shari' |  Advertising |  Assistant Professor |
|  Prof. Adel Mohamed Omar | Graphic |  Professor |
|  Master. Hadeel Mohamed | Graphic design |  teacher |
Related Topics