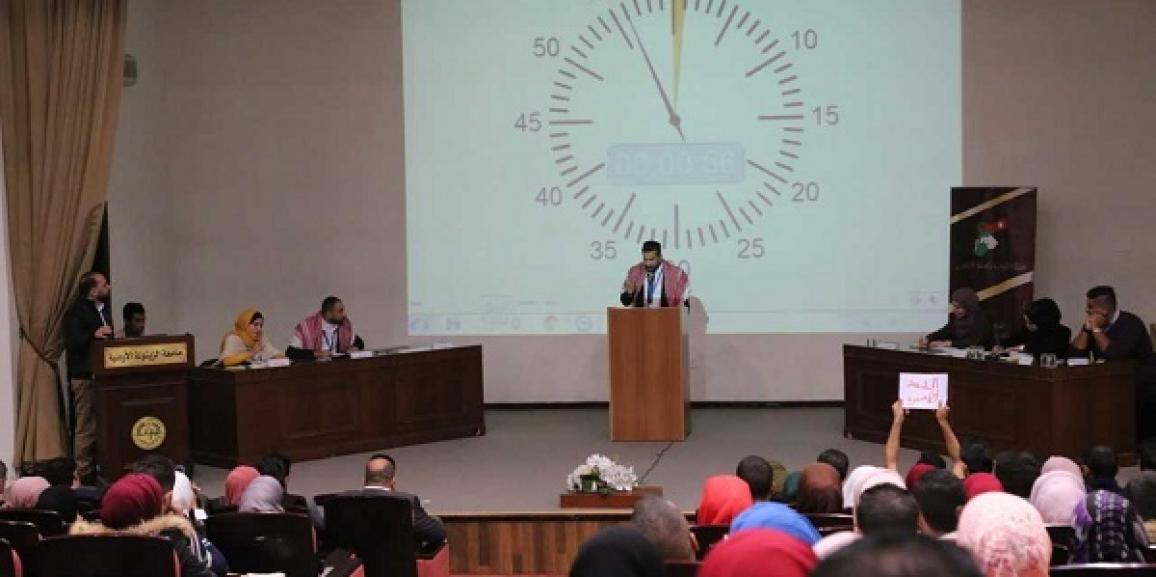 Al-Zaytoonah University of Jordan hosted Debates Clubs Final Tournament as a part of the Youth Jordanian voices program, organized by Jordanian Youth Commission/ King Abdullah II Fund for Development.
The President of the University Professor Turki Obaidat stressed that Al-Zaytoonah University of Jordan is one of the national institutions that prides hosting such tournament or any other national constructive activity or Idea that would contribute to upgrading the intellectual level of youth.
He indicated that the youth are the future and that this is the reason why the University is keen to engage students in extracurricular activities organized by the Deanship of Student Affairs.  It also designed University requisite courses in order to contribute to refining their personalities, building life skills needed in the labor market and enhancing leadership and innovation.
Obaidat cherished the quality of ideas raised in the tournament and the language fluency of the competitors.
The General Director of the Jordanian Youth Commission Abdalraheem Al-Zawahreh indicated that this cultural meeting aims to build the culture of debate and dialogue of Jordanian youth from different governorates, expressing different perspectives based on scientific research that reflects arguments with supporting or opposing views consolidate the culture of dialogue, accepting the other and team work.
At the end of the tournament, Irbid Governorate came in first place, Tafilah Governorate Second and Madaba Governorate third.