Third steering committee meeting for EGREEN project (January 18-20, 2018)
Eng. Eman Abdelhafez participated in the third steering committee meeting for EGREEN project, which was held on January 18-20, 2018 in Porto- Portugal. It was hosted by Catholic University of Portugal and attended by 27 representatives from different project partners including Jordan, Syria, Portugal, Austria, and Germany

Training workshop in Germany (September 11-15, 2018)
Dr. Malik Al-Amayreh attended workshop within EGREEN project which was conducted in Ostwestfalen-Lippe University of Applied Sciences, Germany during September 11-15, 2018. The training is focusing on modelling and simulation of power plant cycles, Water Resources Engineering including non-conventional water resources, Water and Wastewater Treatment, Air Pollution, and Air Quality Management.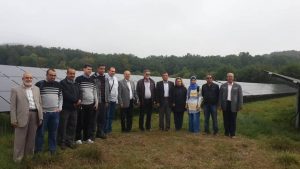 PV system design and energy storage solution(25/11/2017-16/12/2017)
This workshop includes the following topics: PV technology, solar recourse and solar angle, electrical load analysis, on grid and off grid design, Battery Reuse technology and future plan of energy project in Jordan and gulf region.

Participation in the GCREEDER Confenerence(31-3-2018 )
Dr. Malek AL-Amayra participated in the GCREEDER conference on the 31th of March 2018 held at the University of Jordan and presented a paper titled "Oil Shale Pyrolysis Utilizing Solar Thermal Energy".