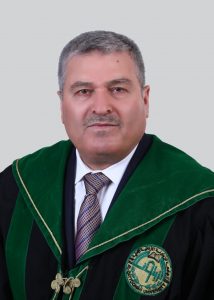 Dean's Message



Graduate Studies Deanship seeks to achieve the University's goal in developing the capabilities and skills of graduate students in scientific research and methodology through various existing programs or future ones to meet professional, academic and research life of students in areas that meet the needs of society, and promote national values. The Deanship is responsible for supervision and development of twelve graduate programs distributed to seven Faculties in the University as follows: Computer Science, Software Engineering,  Mathematics, Pharmaceutical Sciences, Clinical Nursing/ Adult, English Language/ Literature, Business Administration, Accounting, Marketing, Business Analytics, Law and Graphic Design according to the instructions issued by the Council of Deans and the instructions for granting Master's degree at the University. The Deanship is also responsible for accepting and appointing supervisors of the Master's theses, establishing examination committees, judging those theses, and approving the granting of Master's degrees and Higher Diploma at the University.

The Deanship has set its tasks in accordance with the instructions and conditions of accreditation for graduate programs approved by the Accreditation and Quality Assurance Commission for Higher Education Institutions, and the Deanship top priority is to improve the efficiency and effectiveness of graduate programs offered by the various Faculties at the University and raise the level of student's theses, in order to consolidate the University excellence and to improve its competitiveness in the education industry locally, regionally and internationally. Based on the need to achieve excellence and mastery and quality in graduate programs, the University has developed regulations governing the granting of Master's degree so as to lead to an educational system that emphasizes the institutional work, update and develop the University's procession and ensure the students learning and advancement, and create a suitable atmosphere for excellence and creativity by providing all means of learning and modern knowledge that laments their experiences and releases and stimulates their energies and creativity. Within this context, the Deanship seeks to continuously develop its strategic vision and action plans in accordance with its goals, mission, values and objectives.

The Deanship is looking forward to the development of new graduate programs at the Master's and Doctoral levels to keep up with the latest scientific, technical, national development plans and local and international quality standards. Additionally, to contribute to the graduation of distinguished excellent specialists in science and research, and activating the supervisory role of the Council of Graduate Studies on Master's theses to ensure their outstanding level.

May God help the Deanship and students to commit the mission and values of the University, and God is the guardian of success.

Dean of Graduate Studies     
Prof. Abedalrazzak Al-Shehadeh