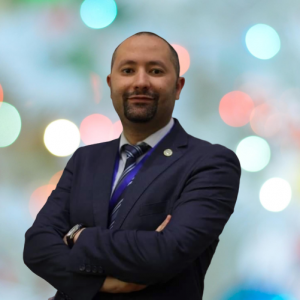 Dr. Mohammad Mahmoud Abdallah
Director of Technology Transfer Office
Assistant Professor, Software Engineering Department, Faculty of Science and IT.


Dr. Mohammad obtained a bachelor's degree in computer science from Al-Zaytoonah University of Jordan. Then completed his studies at the University of Bradford in UK and obtained a master's in Software Engineering and then earned a Doctorate in Software Engineering from the Durham University, UK, in 2012
Dr. Mohammad returned to Al-Zaytoonah University as an Assistant Professor in the Faculty of Science and Information Technology at Al-Zaytoonah University of Jordan from 2012 until now. During this period He occupied several positions in addition to teaching, including:
Chair of Computer Science Department
Chair of Software Engineering Department
Member of Al-Zaytoonah University Council.
Member of Faculty of Science and IT council for several times.
Editor-in-chief for Al-Zaytoonah University Newsletter (English version).
Member of Computer Centre Council.
Member of several committees in Al-Zaytoonah University.
Chairman of the Media and Marketing Committee of the College of Information Science and Technology.
Chairman of the Social and Students activities Committee of the College of Information Science and Technology.

Dr. Mohammad is also a member of international and local associations and institutions such as:
Vice President of ACM International Society – Amman Branch.
Member of the Administrative Board of the Jordan Computer Society, which was established in 1986
Liaison Officer for the International Federation of Green Information and Communication Technology (IFGICT) – Jordan branch.
Member of the International Association of Engineers IAENG.
Member of more than one editorial committee for international and local scientific journals and conferences.